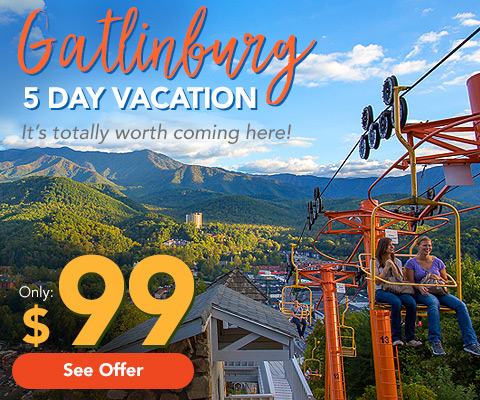 When you think of museums, you probably bring up an image of a marble building with dusty, boring exhibits. The many museums you find in Pigeon Forge turn that concept on its head. They offer interactive exhibits, one-of-a-kind objects, and a fun atmosphere. With so many to choose from, you could take a day trip to the Smokies just checking out museums! This list isn't in sequential order; instead it's organized alphabetically.
https://youtu.be/CBQr9Z4X2pQ
1. Alcatraz East Crime Museum
The newest museum in Pigeon Forge, Alcatraz East Crime Museum, opened in the Fall of 2016. Since then, it's been described as "a must see for CSI fans" and garnered a 4.5 star rating on Trip Adviser. Located at the entrance to The Island, this 24,000 sq. ft. behemoth is designed like a 19th century prison and inspired by the famous Alcatraz of San Francisco. Inside you'll be able to explore more than 20 different exhibit areas covering five major themes: 1) history of American crime, 2) consequences of crime, 3) crime scene investigation, 4) crime fighting, and 5) pop culture. Families who transverse the museum are in for an amazing adventure through American crime. There are lots of interactive exhibits that let you feel like you're a part of history.
Alcatraz East Crime Museum
Address: 2687-2693 The Island Dr, Pigeon Forge, TN 37863
2. Bush's Baked Beans Visitor Center & General Store
Love Bush's Baked Beans? Love history? Love dogs? Then you have a perfect museum to visit in Bush's Baked Beans Visitor Center & General Store. This amazing museum brings visitors fun interactive exhibits that tell the fascinating history of Bush's Baked Beans. See the journey of the company from the very beginning, grab a photo with Duke, see how much you weigh in beans, and so much more! You and your family are guaranteed to love this museum, especially since admission is 100% free!
Bush's Baked Beans Visitor Center & General Store
Address: 3901 US-411, Dandridge, TN 37725
3. Christ in the Smokies Museum & Gardens
At Christ in the Smokies you can travel back in time 2000 and witness a unique portrayal of the life of Jesus. During the tour, you'll be taken thorugh breathtaking scenes taken straight from the Bible. At these scenes, you'll see over 100 life-sized biblical figures in realistic settings, complete with state-of-the-art lighting and special effects. Visitors looking to reinforce their faith don't need to look any further than this museum.
Christ in the Smokies Museum and Gardens
Address: 510 River Rd, Gatlinburg, TN 37738
4. Cooter's Place
For those of you who grew up watching the hit TV show The Dukes of Hazzard, you can't miss out on Cooter's Place. Ben "Cooter" Jones takes visitors through this tribute to the original show. The museum features original costumes, props, memorabilia, thousands of collectibles, and The General Lee! One cool thing about this museum is that the owner is consistently bringing in celebrity guests, like the famous Daisy Duke herself! When you're done checking out the museum, you and the family can enjoy Cooter's themed indoor go-kart track and their 18-hole mini-golf course.
Cooter's Place
Address: 542 Parkway, Gatlinburg, TN 37738
5. Elvis & Hollywood Legends Museum
Fans of The King of Rock and Roll shouldn't miss checking out the Elvis and Hollywood Legends Museum. The museum has been honoring the memory of Elvis Presley for over 35 years. Their recent move to their new location at Walden's Landing has only made their musuem better! Here you'll enjoy a self-guided audio tour narrated by two of Elvis' closest friends, Donnie Summer and Ed Hill. From the Spring until Fall, be sure to stop by on the weekends for a free concert by one of the preeminent Elvis performers in the Southeast!
Elvis Museum
Address: 2530 Parkway #4, Pigeon Forge, TN 37863
6. Titanic Museum
You can't get closer to understanding and experiencing the story of the Titanic than at the Titanic Museum in Pigeon Forge. This museum is a complete interactive experience, from the staff being decked out in authentic uniforms from the early 1900s to the ticket from the real-life passenger you recieve at the start of your journey.
Each exhibit of the museum has an interactive element that helps you fully understand the experiences of Titanic passengers. At the Titanic, you'll find one-of-a-kind exclusive artifacts, such as the violin of William Hartley, the musician who famously played as the Titanic went down.
Titanic Museum Attraction
Address: 2134 Parkway, Pigeon Forge, TN 37863
7. WonderWorks Museum of the Mind
One of the most recognizable landmarks of the Parkway is the upside-down house that is WonderWorks Museum of the Mind. This museum is one of the most dynamic, educational, and fun-filled attractions in the Smokies. When you go thorough the facility, you'll have te chance to enjoy more than 100 hands-on exhibits. Topics of the exhibits have a wide range, from natural disasters to space exploration to the science of bubbles! Each exhibit does an amazing job of integrating you into the experience; you won't be able to leave without learning something new.
WonderWorks Museum
Address: 100 Music Rd, Pigeon Forge, TN 37863
Via pigeonforgechamber.com
There you have it, folks, the 7 best museums in Pigeon Forge! What are your favorite museums to visit when you come to the Smokies?