Gorgeous mountain views, a festive lineup of entertaining shows, a vibrant downtown and Tennessee's only ski resort…there is no better summer/fall/winter getaway than a trip to Tennessee's beautiful Smoky Mountains region. You will find a fantastic combination of relaxing and entertaining activities to enjoy on your getaway. Read on and learn how to how to spend 3 unforgettable days in Gatlinburg and the Smoky Mountains.
Day One

1. Start Your Day at Crockett's Breakfast Camp
Crocketts Breakfast Camp is Gatlinburg's most-buzzed-about breakfast spot! This restaurant is famous for its massive pancakes.
2. Visit Ripley's Aquarium of the Smokies
Crockett's is about a 15-minute walk from Ripley's Aquarium of the Smokies, which was voted the nation's top aquarium by the readers of USA Today. A highlight of the aquarium is the Shark Lagoon, which features an immersive underwater tunnel and moving sidewalk. With Timber Tops' Luxury Pass, you'll receive one free adult admission to Ripley's Aquarium!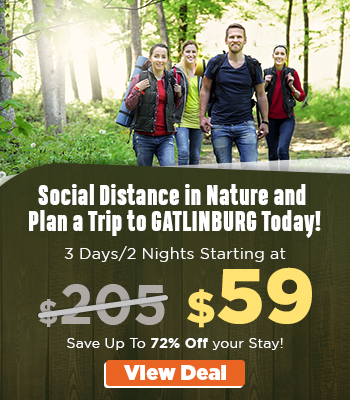 3. Get Lunch at Big Daddy's Pizzeria
While you're still in downtown Gatlinburg, we recommend heading over to Big Daddy's Pizzeria for lunch. All of their mouthwatering pies are baked in a 550-degree brick oven until the crust is perfectly crispy.
4. Go Ziplining at Legacy Mountain
Next, drive over to Legacy Mountain Ziplines for an afternoon filled with thrills and breathtaking views of the Smokies. Our Luxury Pass is good for one free adult canopy tour at Legacy Mountain.
5. Enjoy the Hatfield & McCoy Dinner Show
The Hatfield & McCoy Dinner Show is a hilarious show starring the world's most notorious feuding families. Before the show, guests will enjoy a mouth-watering all-you-can-eat feast with home cooked Southern dishes. The Timber Tops Luxury Pass can be redeemed for one free adult admission to the Hatfield & McCoy show.
Day Two
1. Have Breakfast at Sawyer's Farmhouse
Sawyer's Farmhouse Restaurant cooks one mean breakfast! Guests will love Sawyer's crepes, pancakes, omelets, french toast, and homemade peanut butter syrup.
2. Make the Most of Dollywood
After breakfast, head over to the Pigeon Forge Trolley Station and catch a ride to the world-famous Dollywoodtheme park. Featuring dozens of incredible rides and fantastic shows, it's easy to spend the whole day at Dollywood. Highlights include the Lightning Rod wooden roller coaster, the Smoky Mountain String Band's bluegrass show, and Aunt Granny's All-You-Care-To-Eat Buffet.
3. Have Dinner at The Old Mill Restaurant
When you return to the Pigeon Forge Trolley Station, we recommend strolling over to The Old Mill Restaurant for dinner. This legendary restaurant is located adjacent to a historic grist mill that has been in operation since 1830!
4. See the Country Tonite Show
After dinner, you can enjoy some fantastic music at the Country Tonite Theatre. This popular show offers the perfect mix of modern and classic country tunes. Our Luxury Pass is good for one free adult admission to the Country Tonite show.
5. Relax at The Island in Pigeon Forge
The Island in Pigeon Forge is a wonderful place to relax in the evening. Located off of the Parkway, this shopping and entertainment complex features a beautiful show fountain, great snack shops, and one of the tallest Ferris wheels in America.
Day Three

1. Eat at the Log Cabin Pancake House
If you're spending 3 days in Gatlinburg, breakfast at the Log Cabin Pancake House is a must! We're big fans of the Pancake Royale, which is served with banana wedges, powdered sugar, and a housemade cream cheese sauce.
2. Go Shopping in the Great Smoky Arts & Crafts Community
The Great Smoky Arts & Crafts Community is an 8-mile loop road lined with galleries, studios, and shops. This is the absolute best place to find handcrafted souvenirs in Gatlinburg!
3. Have Lunch at The Wild Plum Tea Room
When you are done shopping, head on over to The Wild Plum Tea Room in the Arts & Crafts Community. This unique cafe has been named one of the top 10 restaurants in the state by The Tennessean newspaper. Be sure to make reservations at least 24 hours in advance to guarantee seating at this popular lunch spot.
4. Explore Cades Cove
Situated about 50 minutes outside of Gatlinburg, Cades Cove is the most frequented section of the Great Smoky Mountains National Park. This breathtaking valley offers a variety of historic buildings, gorgeous mountain scenery, and incredible wildlife viewing.
5. Dine at the Applewood Farmhouse Grill
Located beside an apple orchard, the Applewood Farmhouse Grill is another can't-miss restaurant in the Smokies. Meals at the Farmhouse Grill come with a complimentary fruit juice cocktail and a serving of fresh apple fritters with homemade apple butter.
6. Crack Up at the Comedy Barn
The Comedy Barn is the funniest show in town! Featuring clean, family-friendly comedy, this show will have you laughing until it hurts. Timber Tops guests can redeem their Luxury Pass for one free adult admission to The Comedy Barn.