Clingmans Dome is a beautiful mountain located in the Great Smoky Mountains National Park. It is the highest point in the smoky mountains The views from the summit are simply stunning. However, there are a few things that I won't do again when visiting Clingmans Dome. Here are my top 3:
1. Driving All The Way Out There To Realize The Road Is Closed
Guess what? I've done this before, and it wasn't very good. No one tells you that the road is actually closed from December to April due to the weather. Now I get it – Clingmans Dome is incredibly high up (6,643 feet, to be precise) but with the fall of snow, the road is pretty much closed. Even when the road is technically open from May to November, it is still weather permitting. In my experiences over the years of visiting, September and October are great times to go to the top. Clingmans Dome itself is open all throughout Winter; however, the hike to get there is very steep and long, especially in the frigid cold. Clingmans Dome road is 7.1 miles and is winding up the mountain… I can't imagine hiking that in cold, snowy conditions when the road is closed. Whatever you do, be sure to keep this in mind before you make the 50 min (24-mile) drive to Clingmans from Gatlinburg!
2. Not Giving Myself Enough Time to Hike To The Top Of Clingmans Dome
Oh my – big lesson learned with this one, and it's something I'll never do again. The first time I hiked to the top of Clingmans Dome, I only had 20 minutes to reach the summit before the sun went down. Now it's only a half a mile hike, but the incline is a steep 13%. Most people take the hike slowly and take rest along the way… Since I only had 20 minutes, there were no breaks to be had. I was pretty winded by the time I reached the tower's base. In addition, when you get to the base, you then have to hike the remainder path to the top. I recommend giving yourself plenty of time to enjoy the hike to the top – 20 minutes is not enough. At some points, I was power walking/running up the incline to catch the sunset at the very top. Also, remember that the same applies to heading back to your car – the decline is also steep, and if you're not careful, it can also be hard on your legs and knees. So if you take away anything from this article, give yourself ample time!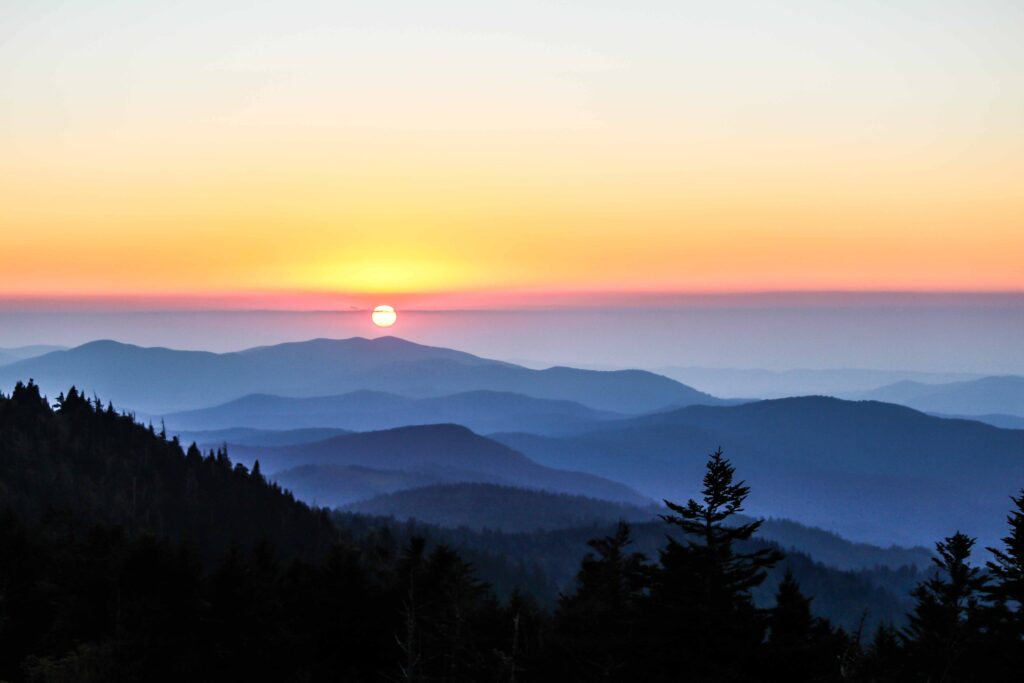 This point goes along with #2 – you better dress the part when going to Clingmans Dome. This not only includes wearing athletic sneakers because, once again, it's a 13% incline to hike up there, but this also includes a jacket. Remember that precipitation and cold temperatures are widespread at higher elevations, such as Clingman's Dome. Since the elevation is so high up, it can and will feel 10 to 20 degrees cooler than low-lying areas. I made this mistake at sunset and didn't have a jacket. Also, don't attempt the hike in boots; you'll instantly regret it about halfway up. Don't worry about rough terrain because the entire path is paved; however, there are zero lights, so don't plan to go after sunset because it is pitch black.
Down below is a map of some of our favorite sights in the area of Clingmans Dome, along with pinpoints of parking and the summit to the top. Happy hiking!
Great Smoky Mountains Travel Overview
Clingmans Dome Is Calling!